*Post originally written by Olivia J on The Unknown Beauty Blog.*
I love to see a cosmetic line that believes in what they are doing and not being steered into the road of unreachable beauty. After all true beauty is what we all have and that is not created by some image but a force that gives of strength in our lives. One company does this through a tribute.
Jing Ai Natural and Organic Cosmetics
was created by Donna Cristino whose grandmother died of breast cancer. The line is a tribute to grandmother Rose's beauty and love, two things which are truly make up this small line of products.
The products consist of packaging made from recyclable materials that are biodegradable and compostable. All their products are
made in the USA
which nowadays is a very rare find!
Ingredients are made from certified organic ingredients, natural mineral pigments, coconut oil and are 100% gluten free. Every product is filled with antioxidants, anti-inflammatory and anti aging properties.
Best way to become acquainted with the line would be their sets and
American Beauty set
($125USD) contains everything for a complete face.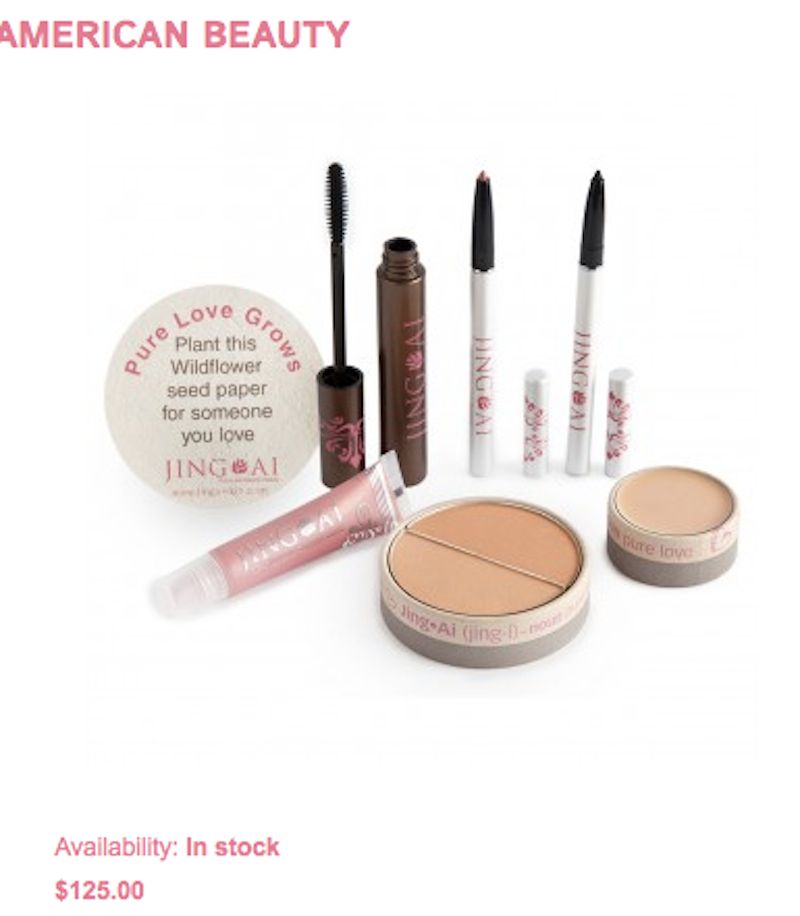 picture from Jing Ai


Masquerade concealer to camouflage
Sierra Glow bronzer duo to be used on eyelids and cheeks
Picasso pencil in Silent Night to define the eyes
Kiss lip pencil in Pink Parfait or Amber Queen to define lips
Eyepaint Mascara in Black
Champagne Cocktail Gloss in First Love

This is a line that is not only cruelty-free and endorsed by LeapingBunny.org, it is a line that is filled with love and true natural beauty! Jing Ai also gives 5% of its proceeds to Feel Your Boobies an organization that promotes breast health.
Read by the Intelligent! Uncredited, copied, and plagiarized by the idiots!