*Post originally written by Olivia J on The Unknown Beauty Blog.*
I like to play with cream products because they just take me into some other makeup realm. I don't know what it is, maybe it is the thrill of mixing colors to see what and how it will turn out. To feel the texture change when mixed and applied onto skin, or how it will look on the skin. Just something that I can't really explain but just love to explore.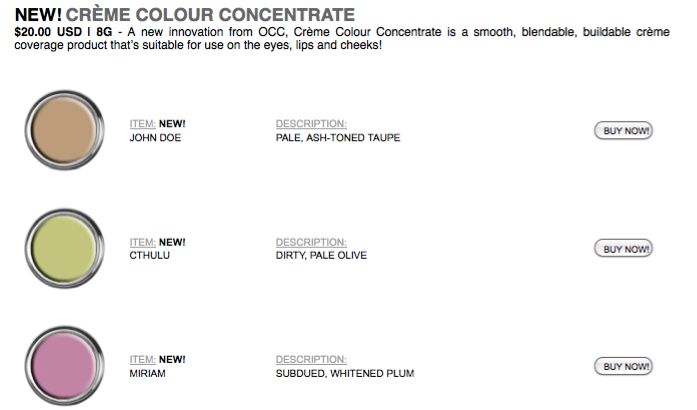 picture courtesy of OCC
Obsessive Compulsive Cosmetics or OCC have come out with their version of cream colors called
The Crème Colour Concentrates
($20USD). These are multi-purpose products that can be used alone, mixed with concealer and/or foundation for some tweaking. At the moment there are only three colors: John Doe-taupe(!), Cthulu-dirty, pale olive (didn't
South Park
feature this?), and Miriam-subdued, whitened plum. I hope more colors will be added or better yet a palette of colors because the options are endless with these creams. Fun and experimentation is why these are on my wishlist and should be on yours too!
Read by the Intelligent! Uncredited, copied, and plagiarized by the idiots!